The English word "dog" comes from Old English docga, the origin of which is uncertain. It eventually replaced Old English hund (cf. "hound" in modern English) as a general designation for the animal.
Surprisingly, the word "hound" shares a common origin with French chien, Italian cane, Welsh ci, Albanian qen, and even Latvian suns and Lithuanian šuo, as you can see from the following map: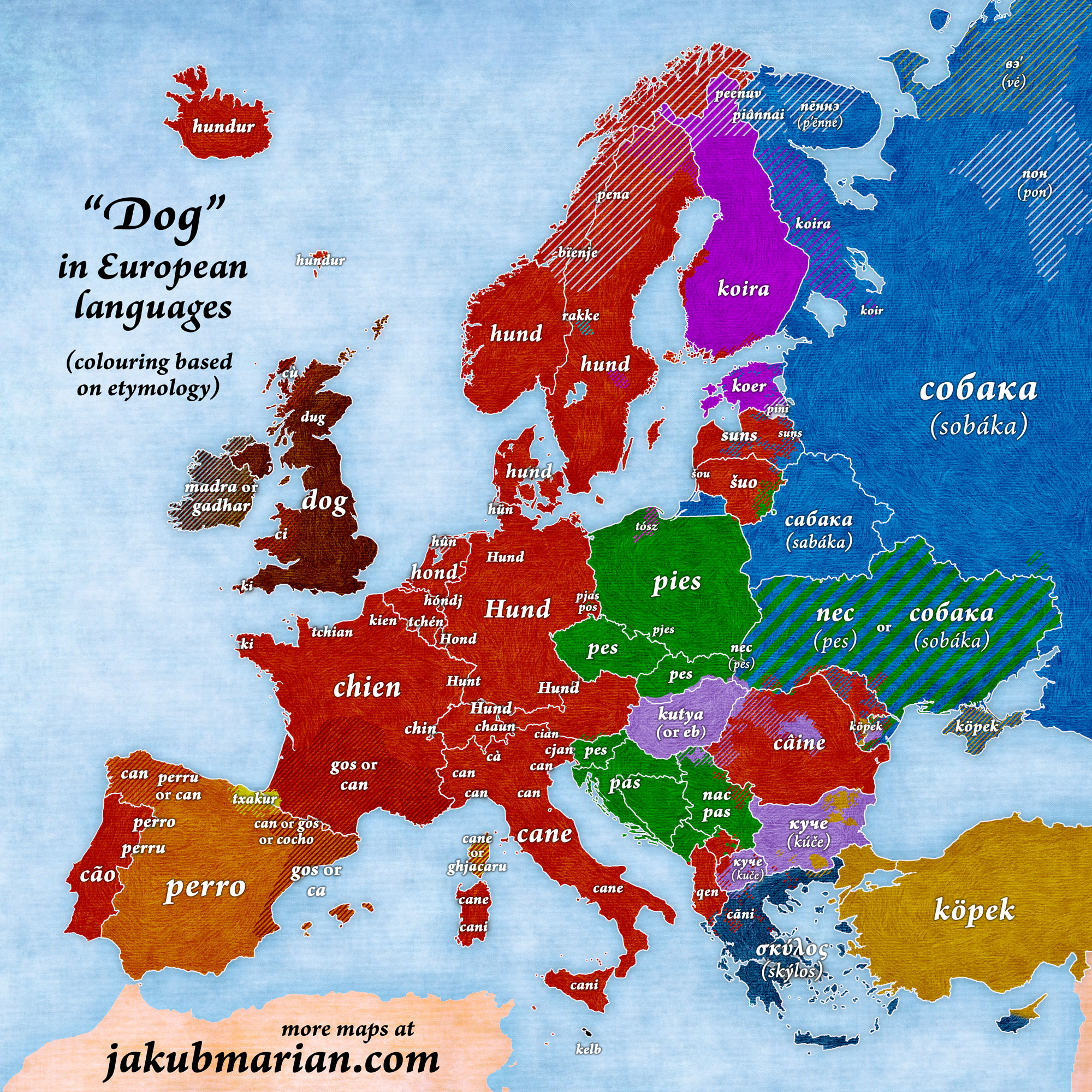 This map is available
in print
in various styles.
You will directly support creation of new maps by buying a copy.
The words in Romance languages all come from Latin canis, the Germanic words from Proto-Germanic *hundaz, the Celtic words from Proto-Celtic *kū, and the Baltic words from Proto-Balto-Slavic *ś(w)ō. All these, in turn, come from Proto-Indo-European *ḱwṓ (the Proto-Germanic one via its derived form *ḱwn̥tós).
The Hungarian word kutya and Bulgarian and Macedonian куче is of uncertain origin. The Slavic words may be borrowings from Hungarian (with a "tj → č" sound change) or vice versa, in which case they could be all related to the Proto-Indo-European expression mentioned above (but they probably aren't).
Spanish perro, Greek σκύλος, and Irish madra are of uncertain origin and may be pre-Indo-European. Irish gadhar is a borrowing from Old Norse.
Pies, pes, etc., in Slavic languages come from Proto-Slavic pьsъ, which is itself of uncertain origin. Russian собака was borrowed from Middle Iranian.
The Sami, Nenets, and Võro words come from Proto-Finno-Permic *penä, while the Finnish, Karelian, Estonian, and Veps come from Proto-Uralic *kojra.
Corsican ghjacaru is likely related to Basque txakur (cf. Spanish cachorro).