Out of linguistic curiosity, I started looking up the most common street names in various countries. The following map shows those I have found so far (there's also a table with the list of sources at the end of the article).
I was unable to find data for some countries. If you know a source for a country that is not yet included in the map, I would be grateful if you let me know.
(click to zoom in)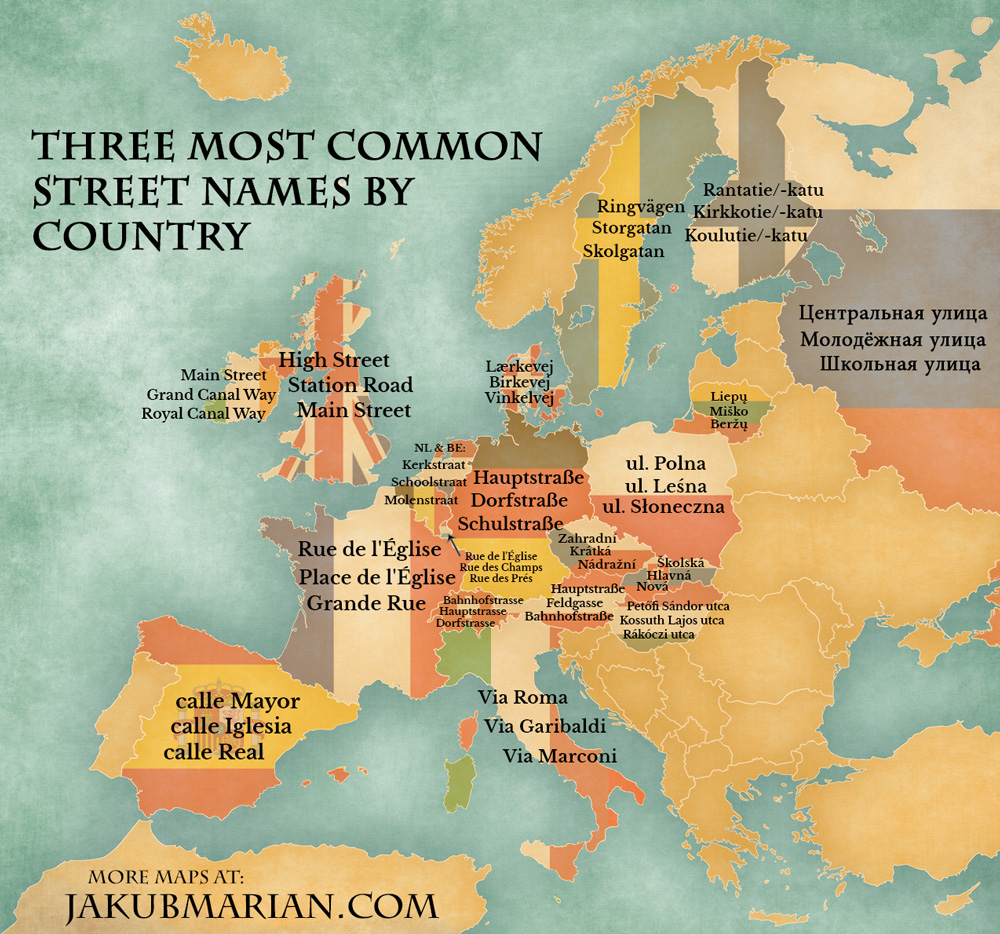 Do you like the map? Show your support by sharing it.
Sharing with attribution helps me create more maps.
And here is the English translation: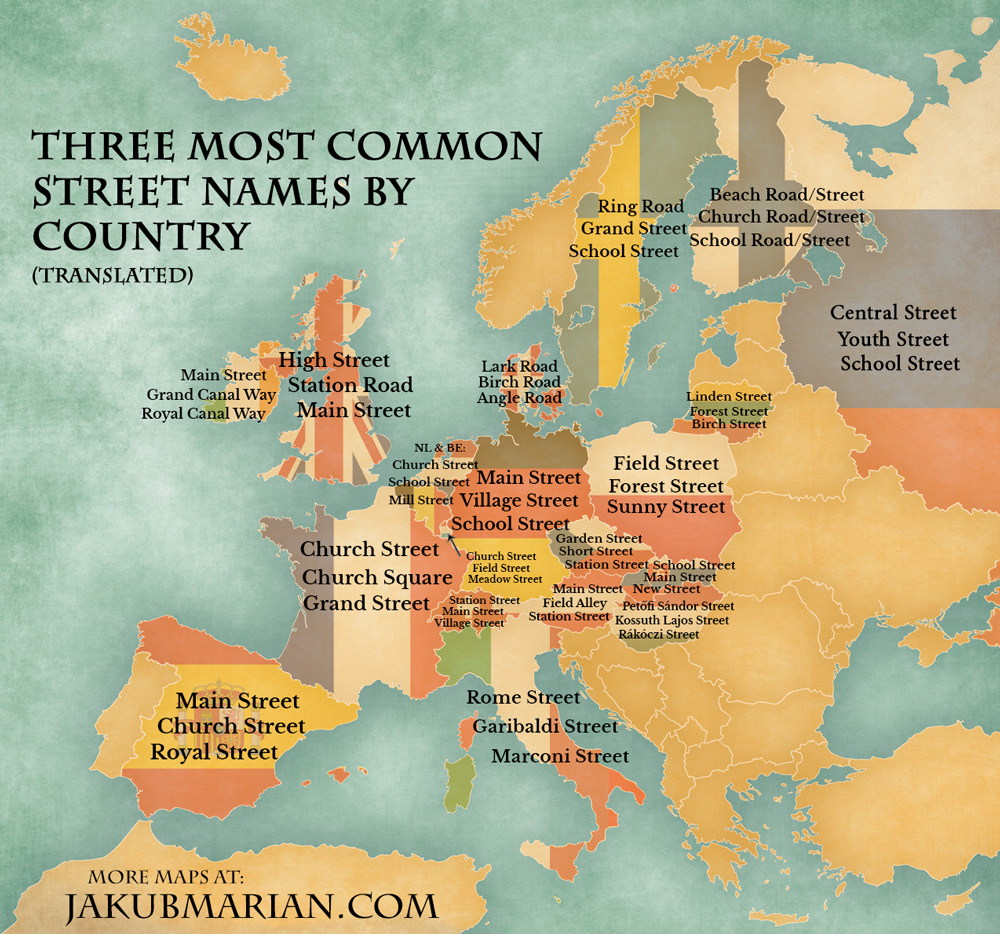 Note: The underlying blank map was made by Tindo and licensed from fotolia.com.
Finally, here is the whole list in a table form:
Austria
Hauptstraße
Feldgasse
Bahnhofstraße
Main Street
Field Alley
Station Street
Source
Belgium
Kerkstraat
Molenstraat
Schoolstraat
Church Street
Mill Street
School Street
Source
Czech Republic
Zahradní
Krátká
Nádražní
Garden Street
Short Street
Station Street
Source
Denmark
Lærkevej
Birkevej
Vinkelvej
Lark Street
Birch Street
Angle Street
Source
Finland
Rantatie
Kirkkotie
Koulutie
Beach Road
Church Street
School Street
Source
France
Rue de l'Église
Place de l'Église
Grande Rue
Church Street
Church Square
Grand Street
Source
Germany
Hauptstraße
Dorfstraße
Schulstraße
Main Street
Village Street
School Street
Source
Hungary
Petőfi Sándor utca
Kossuth Lajos utca
Rákóczi utca
Petőfi Sándor Street
Kossuth Lajos Street
Rákóczi Street
Source
Ireland
Main Street
Grand Canal Way
Royal Canal Way
Source
Italy
Via Roma
Via Garibaldi
Via Marconi
Rome Street
Garibaldi Street
Marconi Street
Source
Lithuania
Liepų
Miško
Beržų
Linden Street
Forest Street
Birch Street
Source
Luxembourg
Rue de l'Église
Rue des Champs
Rue des Prés
Church Street
Field Street
Meadow Street
Source
Netherlands
Kerkstraat
Schoolstraat
Molenstraat
Church Street
School Street
Mill Street
Source
Poland
ul. Polna
ul. Leśna
ul. Słoneczna
Field Street
Forest Street
Sunny Street
Source
Russia
Центральная улица
Молодёжная улица
Школьная Улица
Central Street
Youth Street
School Street
Source
Slovakia
Školská
Hlavná
Nová
School Street
Main Street
New Street
Source
Slovenia
Šolska ulica
Prešernova ulica
Vrtna ulica
School Street
Prešeren Streen
Garden Street
Source
Spain
calle Mayor
calle Iglesia
calle Real
Main Street
Church Street
Royal Street
Source
Sweden
Ringvägen
Storgatan
Skolgatan
Ring Road
Grand Street
School Street
Source
Switzerland
Bahnhofstrasse
Hauptstrasse
Dorfstrasse
Station Street
Main Street
Village Street
Source
United Kingdom
High Street
Station Road
Main Street
Source