Most European countries have just one official language. Some actually have none (which is the case of the United Kingdom, where English is de facto official—used by the government and courts—but not de jure official), and a few have two or more, the "winner" being Switzerland, which has four.
The map below shows European countries and their official languages. It does not show languages that are only official in smaller, non-sovereign territories (such as German states and Spanish autonomous communities). To see the distribution of minority languages, see my complete map of European languages.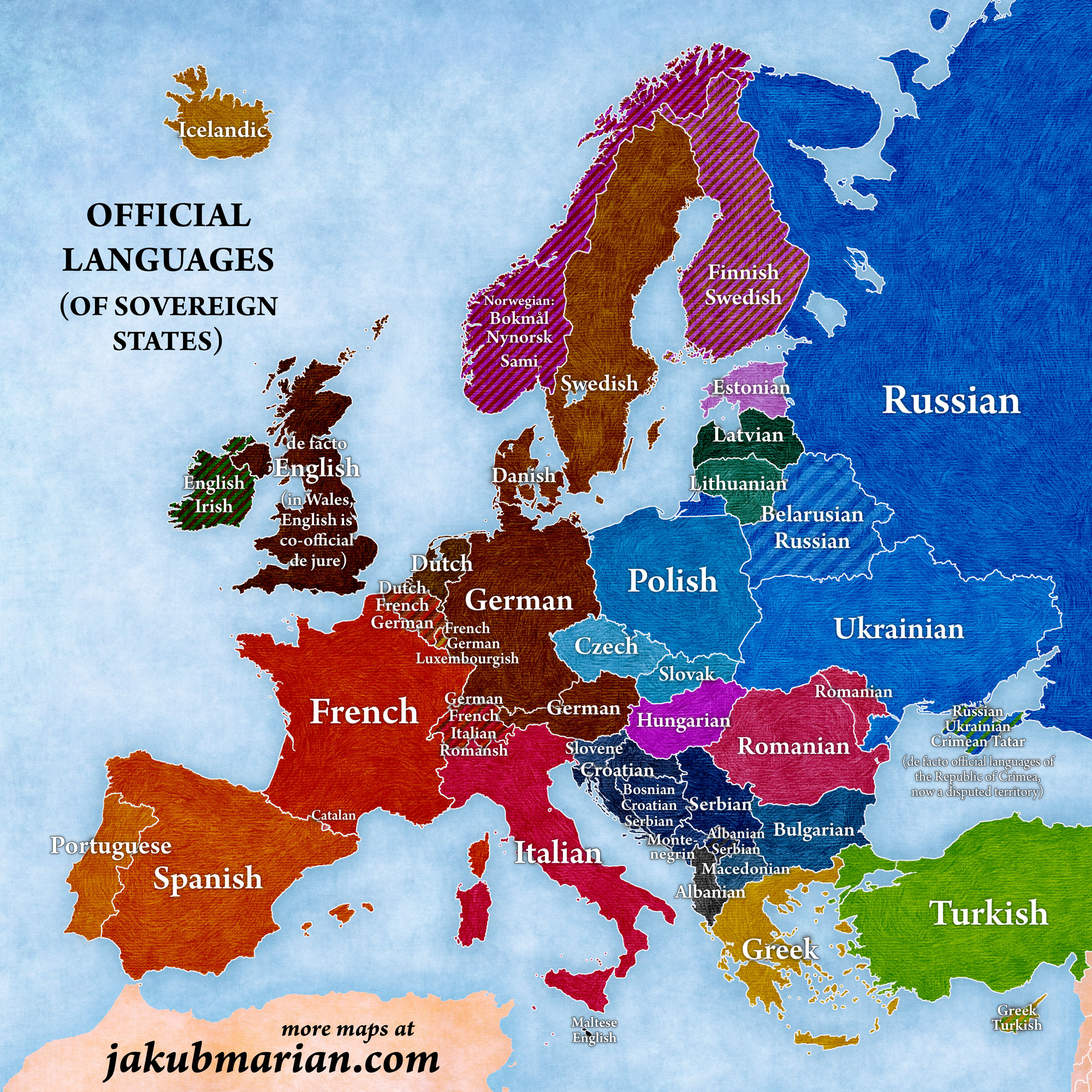 Do you like the map? Show your support by sharing it.
Sharing with attribution helps me create more maps.
Four countries are too small to be shown on the map: Liechtenstein (German), Monaco (French), San Marino (Italian), and Vatican City (Italian, de facto).
To make reading the map easier, here's a list of all languages that are official in two or more European countries (including Turkey and Cyprus), ordered by number of countries:
Language
European countries where the language is official
German
Germany
Austria
Switzerland
Belgium
Luxembourg
Liechtenstein
French
France
Belgium
Switzerland
Luxembourg
Monaco
Italian
Italy
Switzerland
San Marino
Vatican City (de facto)
Serbian
Croatian
Bosnian
Montenegrin
Serbia
Croatia
Bosnia and Herzegovina
Montenegro

(Four standardized varieties of a single language. Serbian is official in Serbia and Bosnia, Croatian is official in Croatia and Bosnia, Bosnian is official in Bosnia, and Montenegrin is official in Montenegro. Note that in B&H, the languages are not official at federal level.)

English
United Kingdom (de facto)
Ireland
Malta

Russian
Russia
Belarus
Turkish
Turkey
Cyprus
Romanian
Romania
Moldova
Dutch
Netherlands
Belgium
Greek
Greece
Cyprus
Swedish
Sweden
Finland