Almost half a billion people live in South and Central America, and more than 600 million people live in Latin America (which includes Mexico and the Caribbean but excludes English and Dutch-speaking regions). However, the population is not spread evenly in the region.
For example, only 16 people per square kilometre live in Belize (the lowest value in central America), while its neighbour Guatemala boasts 155 people per square kilometre, one of the highest values in the Americas—but, see for yourself: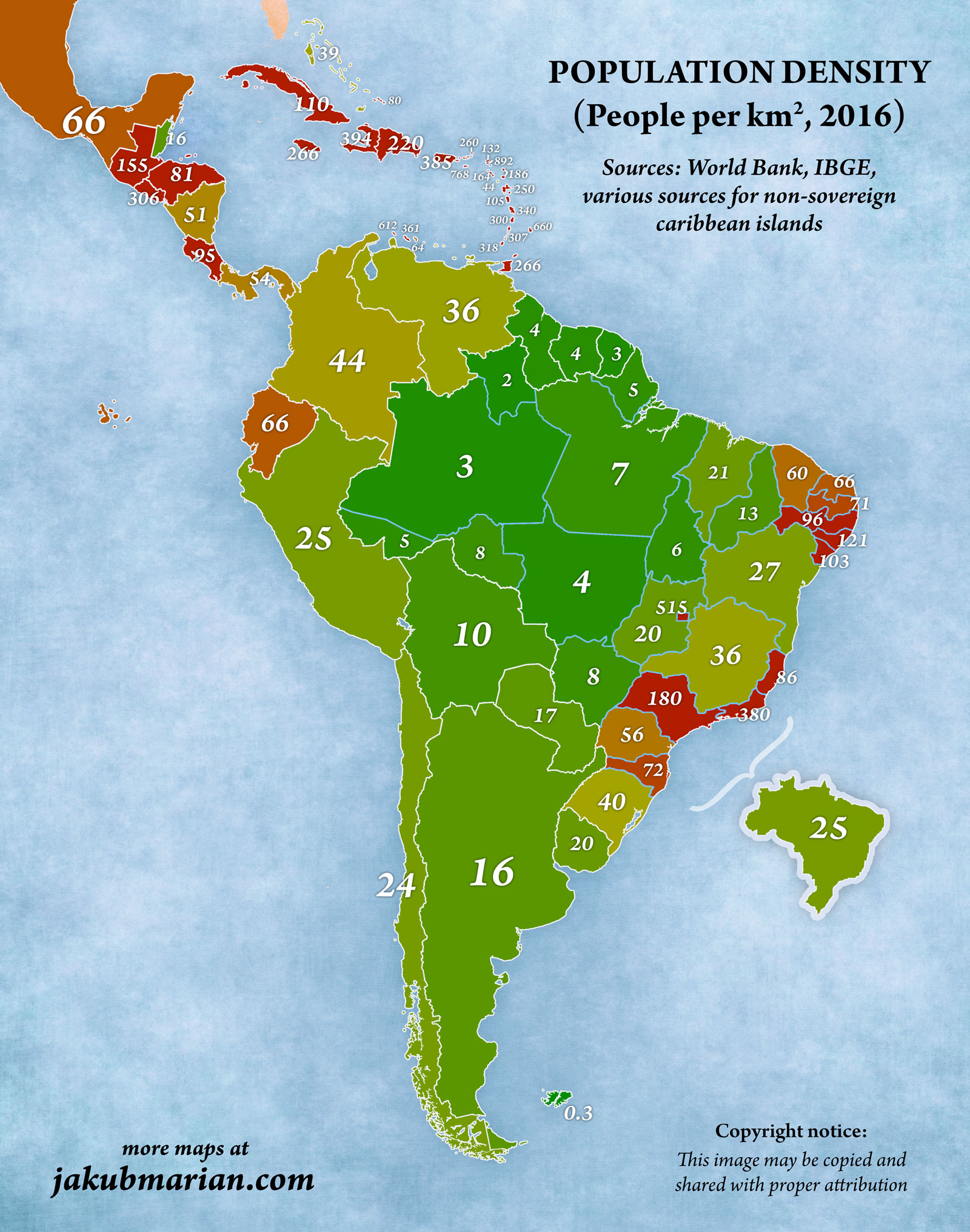 Do you like the map? Show your support by sharing it.
Sharing with attribution helps me create more maps.
Population density varies widely in Brazil. The coastal states are among the most densely populated regions in the Americas, while the Amazonian states are some of the least densely populated regions in the world.
Here are the data from the map (based on data by the World Bank), except tiny Caribbean islands, sorted from most to least densely populated:
Country
People per
km2 (2016)
Barbados
660
Haiti
394
Puerto Rico
385
El Salvador
306
Jamaica
266
Trinidad and Tobago
266
Dominican Republic
220
Guatemala
155
Cuba
110
Costa Rica
95
Honduras
81
Ecuador
66
Mexico
66
Panama
54
Nicaragua
51
Colombia
44
The Bahamas
39
Venezuela
36
Peru
25
Brazil
25
Chile
24
Uruguay
20
Paraguay
17
Argentina
16
Belize
16
Bolivia
10
Guyana
4
Suriname
4
French Guiana
3
Falkland Islands
0.3